Peter "Tug" O'Neale
was a character in Ho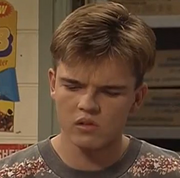 me And Away who first appeared in
Ep 1008 (20 May 1992)
and last appeared in
Ep 1548 (7 Sep 1994)
. He was the rebellious schoolfriend and enemy of
Shane Parrish
. Originally a baddie, Tug mellowed when he began dating
Sarah Thompson
and left to help her father
Matthew Thompson
run his farm. Tug was played by
Tristan Bancks
.
Biography
Edit
Backstory
Edit
Pete O'Neale was born in 1976 to Roy O'Neale and Mrs O'Neale. He was their only child, and of Irish descent.
1992-1994
Edit
Tug was the school bully at Summer Bay High School. He began bullying Damian Roberts. Damian's friends Blake Dean and Simon Fitzgerald back Damo up and even physically threaten him. Tug continues his harassment campaign against Damian which leads to a fight which Damian wins after Blake and Simon secretly force Tug to deliberately lose. Tug challenges Damian to a rematch, which he refuses and when Tug tries to prevent him from leaving, Damian breaks his nose. Tug reappears when his father Roy's (Mervyn Drake) bear traps injure Damian's friend ShaneHe soon got into scrapes with Shane Parrish. One time he framed him for a burglary. Tug and Shane were arch rivals Tug one time got a job helping Alf Stewart at The Stewart Store.
In 1994, Tug got closer to Sarah but her father Matthew Thompson did not approve of Tug. Matthew and Tug soon formed a bond. In September 1994, Tug got a job working for his future father in law and left Summer Bay.
In 2002, Alf said Tug and Sarah had wed and she was pregnant. They wed sometime inbetween 1994 and 2002.
As of 2017, it is unclear if Tug and Sarah had any more children.
Memorable info
Edit
Birthday: 1975
Full Name: Peter O'Neale
Nicknames: Tug
Father Roy O'Neale
Spouse Sarah Thompson (2002-)
Children 2 children (One born c2000, the second in 2003)
Aunts Mavis Brown
See Also
Edit
Ad blocker interference detected!
Wikia is a free-to-use site that makes money from advertising. We have a modified experience for viewers using ad blockers

Wikia is not accessible if you've made further modifications. Remove the custom ad blocker rule(s) and the page will load as expected.