Thomas Edward "Tom" Fletcher
[1]
was a character in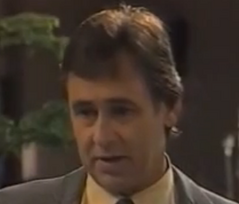 Home And Away from
Episode 0 (Episode Pilot) (17 January 1988)
to
Ep 526 (30 Apr 1990)
. In 2008, Tom appeared in a vision by 
Sally Fletcher
. He was the patriarch and head of the Fletcher family and first husband of
Pippa Ross
. Tom was a major character in the first 2 years of the show and one of the first to be created by the shows creator
Alan Bateman
. He died at the wheel, friomeithe r a heart attack or stroke with foster children
Bobby Marshall
(then known as Bobby Simpson) and
Steven Matheson
as passengers in 1990 aged 43. Tom was played by New Zealand Australian
Roger Oakley
.
Biography
Edit
Thomas Edward Fletcher

Character Profile

Birthday:
17 January 1948 - 26 April 1990
Birthplace:
Sydney, NSW, Australia
Father:
Unknown, not mentioned
Mother:
unknown, not mentioned
Siblings:
Unknown, not specified
Spouse:
Pippa Ross then Fletcher, originally King (1969-1990)
Children:
Christopher Fletcher (1988)
Occupation:
Foster Parent, Road gang council worker, Macklin Group Manager (real estate development firm)
Played By:
Roger Oakley



Backstory
Edit
Thomas Edward Fletcher was born on the 17 January, 1948 in Sydney, Australia. He was the patriarch of the Fletcher family and first husband of Pippa King. His father left his mother when he was a baby and his mother placed him in foster care in 1949 when Tom was 2 years old. Tom once fancied film actres Marilyn Monroe. He joined the army aged about 19 and served in the Vietnam War. While there he met fellow soldier Danny King and they became good friends. Tom started dating Danny's sister Pippa King once he returned to Australia.
Tom lived in Sydney but was made redundant from his job in 1987. Him and Pippa and their foster son Frank decided to swap the city for a more rural location, the sunny seaside town of Summer Bay.Tom worked for the Macklin Development Firm and was a respected man in the community, although the could be handy with his fists at times, even besting hardman Sam Barlow in a fight
1988-1990
Edit
Tom and Pippa Fletcher took in several more foster children including Steven Matheson, Carly Morris and Lynn Davenport. Tom clashed with neighbour Donald Fisher who was the vice principal of the local high school. Donald said he could make their lives hell if he wanted to. He also tried to stitch up Bobby Simpson. Tom told Don to leave before he gets thrown out. Tom and Don continued their rivalry. Tom worked on the road gang and his foreman was the belligerent Sam Barlow. Sam begun to harrass some of Tom's foster children. Tom even bested Sam in a fight. Sam killed his wife Kerry Barlow and was jailed. Tom bettered himself when he left the road gang and later went to work for The Macklin Corporation. One time Don Fisher even mocked Tom's army days, calling him a pen pusher.
Tom became a father in September 1988 to baby Christopher Fletcher. Tom later became overloaded with work and was hospitalised for weeks. Sadly Tom died suddenly in April 1990 aged just 43 when he had a heart attack at the wheel. Pippa was devastated but later met Michael Ross.
Tom's legacy lived on in Summer Bay and 18 years later, Sally saw a vision of him.
Memorable info
Edit
Birthdate: 17 January, 1948
Died: 26th April 1990 (Aged 42)
Full name: Thomas Edward Fletcher
First Line "How difficult?" (to Mr Jarvis)
Last Line "Oh, the olden days! Do us a favour! Oh, let's see, in the olden days I think we used to call it a French kiss." (to Steven, Bobby and Sophie)
Tom's grave marker however mistakes his birth name as "Thomas Robert Fletcher".
Personality
Edit
Reception
Edit
Siblings at least 1 brother
Spouse Pippa King (1969-1990)
Children Christopher Fletcher (1988)