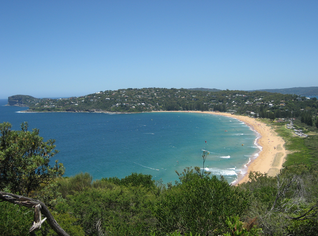 Summer Bay
[1]
the sun kissed fictional coastal town in New South Wales, Australia, which Home And Away is set. It is either north or south (the indications are ambiguous) of
Sydney
and is accessed by several country roads but has no main motorway or dual carriageway. Summer Bay was founded in 1852. It has seen many disasters, revamps and tragedies since then, especially since 1988. It is a very quintessentially Aussie town with a lovely beach, a surf club and a jetty and other amenities. Notable families that have lived there are the Stewarts, Fletchers, Fishers, Sutherlands and Braxtons. The population of the town is about 3000 to 5000 as
Summer Bay High School
has always had many students, some may be from neighbouring towns and villages which did not have a high school. Many buildings in Summer Bay are never seen or featured in the TV series which can always lead to new buildings being seen in the future.
1852-1987
Edit
In May 1852, a sailor called Captain Stewart moored his ship on the peninsula of which Summer Bay was to be built on. It was a winters day and he named it Summer Bay as it was still summer in Scotland.
Due to this, many of the Summer Bay residents are of Scottish descent such as the Pattersons as well as the Stewarts. Also several surnames of families such as Wilson and Sutherland originate in Scotland or Northern England such as County Durham.
In 1945, Alf Stewart was born to Gordon Stewart and his wife. He was one of several siblings. Alf went to school with the Pattersons and Wilsons.
1988-present
Edit
In early January 1988 the Fletcher family bought Summer Bay House and moved there with their several foster children. The family consisted of city man Tom Fletcher, his wife Pippa Fletcher and their foster children Frank Morgan, Sally Fletcher, Carly Morris, Steven Matheson, Lynn Davenport and Bobby Simpson.
Memorable info
Edit
Notable places
Edit
Existing known places and residences in Summer Bay
Former places
Notable people
Edit
Ad blocker interference detected!
Wikia is a free-to-use site that makes money from advertising. We have a modified experience for viewers using ad blockers

Wikia is not accessible if you've made further modifications. Remove the custom ad blocker rule(s) and the page will load as expected.