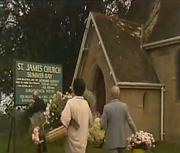 St James Church is the parish church for
Summer Bay
. It has been the place where a lot of marriages, non marriages and funerals of Summer Bay residents have taken place.
It is assumed that the church was founded by the Stewart family who founded Summer Bay in 1852.
Vicars over the years
Edit
Ad blocker interference detected!
Wikia is a free-to-use site that makes money from advertising. We have a modified experience for viewers using ad blockers

Wikia is not accessible if you've made further modifications. Remove the custom ad blocker rule(s) and the page will load as expected.