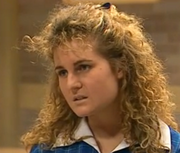 Sharyn Hodgson (25th August, 1969) is an former Australian actress who played
Carly Morris
regularly from 1988 to 1990 and sporadically from 1997 to 2008. You may be interested to know she also played
Samantha Morris
, Carly's twin sister in 1988. They even appeared in scenes together, in clever camera trickery.
Pre Home And Away career
Edit
Sharyn Hodgson was a former actress
Home And Away 1988-1991
Edit
After Home And Away
Edit
Return to Home And Away 1997, 2000, 2001, 2002 and 2008
Edit
Ad blocker interference detected!
Wikia is a free-to-use site that makes money from advertising. We have a modified experience for viewers using ad blockers

Wikia is not accessible if you've made further modifications. Remove the custom ad blocker rule(s) and the page will load as expected.