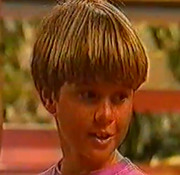 Sam Marshall (ne Nicholls)
was a character in Home And Away from April 1991 (
Episode 738
) to January 2001 (
Episode 2964
), with return appearances 2002 and 2005. Sam last appeared in (
Episode 4000
) Sam was played by
Ryan Clark
.
Biography
Edit
Backstory
Edit
Sam Marshall was born in 1983 or 1984, the son of Greg Marshall and Jacqui Nicholls. Jacqui was a single mother struggling to cope with Sam so he was taken into care. In 1991 he was fostered by Bobby Simpson and moved into The Beach House.
1991-2001, 2002, 2005
Edit
Later that year (Episode 860), Sam's father Greg Marshall came looking for him, hoping to get to know his son. He and Bobby fell for each other and married in 1992 (Episode 1023). In August 1993 (Episode 1298), Bobby was killed in a motorboat accident. Greg returned to his old job of being a truck driver and left Sam with Bobby's father Donald Fisher. Donald struggled to cope with looking after Sam, so he asked Pippa and Michael Ross to look after him. In time he was officially fostered by the Rosses.
Memorable info
Edit
Birthday: 1983 or 1984
Full Name: Samuel Marshall (ne Nicholls)
Father Greg Marshall
Mother Jacqui Nicholls
Adoptive Mother Bobby Marshall
Adoptive grandfather Donald Fisher
Adoptive grandmother Morag Bellingham