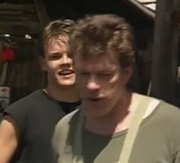 Russell Kiefel
was an Australian actor who played
Roy O'Neale
in Home And Away in 1993 and 1994.
Pre Home And Away career
Edit
Russell Kiefel was born in 1951 in Tully, Queensland Australia. He graduated from drama school in 1974. His first TV role was in 1977 as Pete in The Singer And The Dancer. He appeared in many roles including neighbours as Russell Brennan
Home And Away 1993 1994
Edit
Russell joined the cast of H&A as Roy O'Neale in 1993, taking over from Mervyn Drake, who played him in 1992. He played Roy O'Neale in a sporadic role from 1993 to 1994. Roy was the estranged father of Tug (Tristian Banks)
After Home And Away
Edit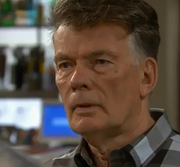 Russell had roles in
All Saints
and
Blue Heelers
. He also had roles in
Underbelly
and a few other shows. In 2015, he was cast as
Russell Brennan
in
Neighbours
. He played the role for several episodes.
Russell Kiefel died on the 20th November 2016 after falling ill during a stage performance. He was 65 years old. His Neighbours character was subsequently killed off in 2017.
Ad blocker interference detected!
Wikia is a free-to-use site that makes money from advertising. We have a modified experience for viewers using ad blockers

Wikia is not accessible if you've made further modifications. Remove the custom ad blocker rule(s) and the page will load as expected.