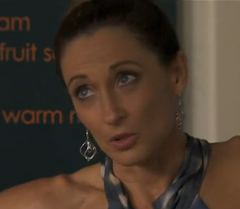 Ruth Martha "Roo" Stewart
is a character in Home And Away who first appeared in
Episode 3 (20 January 1988)
. She is the daughter of
Alf Stewart
. Roo was originally played by
Justine Clarke
from January 1988 to 
Episode 345 (7 Jul 1989)
and since 2010 has been played by Gold Logie award-winning actor
Georgie Parker
.
Biography
Edit
Backstory
Edit
Ruth Martha Stewart was born in 1970 to Alf Stewart and Martha Stewart nee Baldivis. Roo grew up in Summer Bay and attended school with Alison Patterson and Steven Matheson. Roo gained a manipulative side. Roo is probably related to Mervin Baldivis, who shares her mothers maiden name, he may be her grandfather, this has never been confirmed.
1988-1989
Edit
Ruth Stewart was a schoolgirl in January 1988 when she s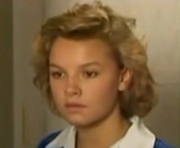 tarted dating
Frank Morgan
. Roo's father
Alf Stewart
initially disagreed, thinking Frank was leading Roo astray but soon softened towards their relationship as he knew Frank was good for her. Roo's school enemy was
Bobby Simpson
and
Alison Patterson
. Roo was sent to boarding school in early 1988 and there she met
Brett Macklin
who got her pregnant. She lied about the conception dates to make
Frank Morgan
believe he was the father so he would marry her. However she bottled out on their wedding day and told him the truth. Roo and Bobby fought like cat and dog and never knew until 1989 that her arch enemy was her first cousin as Bobby was the illegitimate daughter of Roo's paternal aunt Morag Bellingham, her dad's sister.
Ruth returned in 2010 after 21 years away. She was now 40.
Memorable info
Edit
Birthday: 1970
Full Name: Ruth Martha Stewart
Nicknames: Roo, Kanga (by Bobby Simpson)
In Episode 85 (13 May 1988) Roo's middle name was revealed.
Ruth "Roo" Stewart first appeared in Episode 3, on the 20th January 1988, which was technically the 4th episode of the show, counting the telemovie length pilot. There is some debate as to whether Roo is an original character as the pilot was filmed in July 1987, and the regualr series begun filming that October. By then, Justine Clarke had been cast as Roo.
Father Alf Stewart
Mother Martha Stewart (ne Baldivis)
Siblings Duncan Stewart, Quinn Jackson, Owen Dalby, (all half, same father)
Grandfathers Gordon Stewart, Mervin Baldivis
Grandmothers Sarah Jane Stewart, Mrs Baldivis
Great grandfathers Angus Stewart
Spouse
Children Martha MacKenzie (1988)
Cousins
See also
Edit
Ad blocker interference detected!
Wikia is a free-to-use site that makes money from advertising. We have a modified experience for viewers using ad blockers

Wikia is not accessible if you've made further modifications. Remove the custom ad blocker rule(s) and the page will load as expected.