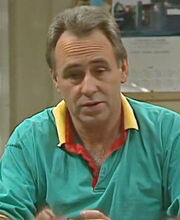 Roger Oakley [1] is a New Zealand-born, Australian actor who played original character Tom Fletcher from 1988 to 1990. Roger was already a veteran actor when he was given the part of Tom Fletcher. At 45, he was much older than his co-star Vanessa Downing who was only 30 at the time. Roger has played many other TV roles as well as acting in the theatre and film. Now aged in his mid-70s, he still continues to appear in small roles and works as a voice-over artist. He was one of the more popular original characters, and his departure was felt by fans.
Pre Home And Away career
Edit
Roger Oakley was born on 21st August 1943 in Auckland, New Zealand. In 1968 he moved to Britain for 5 years. While he was living there, he took a part-time drama course and appeared in theatre productions. Back in his native New Zealand one of his earliest film parts was in the cult Sam Neill/Roger Donaldson thriller Sleeping Dogs. In 1978 he moved to Australia. Roger's credits are too extensive to list, but he appeared in shows such as The Sullivans, Prisoner Cell Block H, Sons and Daughters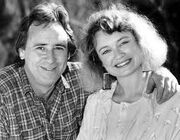 hters, the Flying Doctors and A Country Practice.
Home And Away 1988-1990
Edit
Roger played patriarch Tom Fletcher from 1987 to 1990. He made his (almost) final appearance on the show in Episode 526 when Tom suffered a fatal heart attack. He reprised his role as Tom in February 2008, appearing in a supernatural-tinged episode alongside Kate Ritchie.
After Home And Away
Edit
Roger has continued to clock up a long list of film, theatre and TV credits, taking guest roles on the likes of Hercules, Something in the Air, Blue Heelers, All Saints, Underbelly, Winners and Losers. He even found the time to act in four episodes of Neighbours!
He is active in the theatre and has appeared in many productions. He also works as a voice-over artist and an
acting teacher