Roger Oakley is an New Zealand Australian act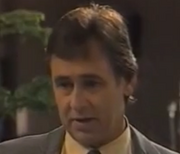 or who played original character
Tom Fletcher
from 1988 to 1990. Roger, already a veteran actor was given the role aged 45, and was much older than Vanessa DOWNING Who was only at the time. Roger has played many other TV roles as well as acting in the theatre and film
Pre Home And Away career
Edit
Roger Oakley was born on the 21 August 1943 in New Zealand. He moved to Australia and began acting in 1968. Rogers credits are to extensive to list, but he appeared in shows such as The Sullivans and Prisoner and A Country Practice, as well as film Sleeping Dogs in his native New Zealand
Home And Away 1988-1990
Edit
Roger played patriarch Tom Fletcher from 1987 to 1990. Roger was axed from the show in early 1990 by exec producer Des Monaghan.
After Home And Away
Edit
Roger has had roles in Blue Heelers and Neighbours. He also has turned his hand to directing.
Ad blocker interference detected!
Wikia is a free-to-use site that makes money from advertising. We have a modified experience for viewers using ad blockers

Wikia is not accessible if you've made further modifications. Remove the custom ad blocker rule(s) and the page will load as expected.