Robert Baxter (credited here as Rob Baxter) is an actor who play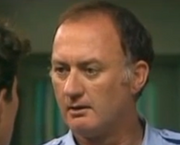 ed
Bob Barnett
, the local police sergeant of
Summer Bay
in 1988 and 1989. He then played
Fred Archer
in 1994 and 1996. Ironically Archer was an ex cop, and Barnett was a cop who remained straight but Archer was a crook.
Pre Home And Away career
Edit
Home And Away
Edit
After Home And Away
Edit
Ad blocker interference detected!
Wikia is a free-to-use site that makes money from advertising. We have a modified experience for viewers using ad blockers

Wikia is not accessible if you've made further modifications. Remove the custom ad blocker rule(s) and the page will load as expected.