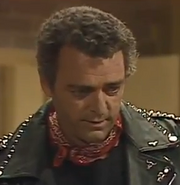 Norman Coburn
is an Australian-born actor and former restaranteur who started his early career in the UK, he played the role
Donald Fisher
. Donald was the grumpy, but later compassionate high school teacher, deputy principal and later principal of
Summer Bay High School
. He was an original character and appeared in Home and Away from 1988 to 2003. He made returns to the show in 2004, 2005 and 2007. He is now retired and lives on Bruny Island, Tasmania.
[1]
Pre Home And Away career
Edit
Norman Coburn was born on the 6th March 1937 in Earlwood, Sydney, NSW, Australia.[2] He trained as an actor and moved to England in the late 1950s where he had minor roles on early British TV programmes such as Dixon Of Dock Green, Compact and possibly Coronation Street. Norman was also a businessman and land owner who set up a vineyard in Cornwall, England. He had two restaurants in London in the early 1960s. He was married to a former dancer named Tina. [3]
In the early 1980s he began to appear on Australian TV screens. Like many other Australian actors he popped up on A Country Practice an

d Sons and Daughters. He had a minor role in an Australian mini-series called 1915
Home And Away 1988-2003, 2004, 2005, 2007
Edit
In 1987, Norman got the role of Donald Fisher in upcoming soap, Home And Away. Whether Norman applied or was selected for the role is unknown. Norman began filming for the pilot episode in July 1987 and along with the rest of the cast began filming of the regular series in October that year.
Home And Away was Norman's big break. He instantly became a household name in Australia and across the world, especially in the UK where the show was getting 14 million viewers an episode. Don Fisher was several years younger than Norman Coburn. In 1987 when he landed the role, Coburn was 50 whereas Don was 42.
In 2003 Norman decided to leave H&A after 15 years. His dog died and he realised his dog was as old as H&A so decided it was time to go. Donald retired and moved away from the bay.
Norman did return briefly in 2004 and 2005 and for a longer stint in 2007. It is unknown whether Norman Coburn, who was one of the popular characters as Donald is the early years will returning for a guest role for 30th anniversary in 2018.
After Home And Away
Edit
In 2008 Norman appeared as Jeff in the sitcom The Hollowmen.
Since Home And Away Norman has done some theatre work but is semi retired.
It is widely reported that Norman Coburn played a labourer in the long running British soap opera Coronation Street sometime in the 1960s. The show has been on air since December 1960 and Norman was based in England at the time. It's quite likely that be that the episode he appeared in has not been repeated since its original broadcast. When Granada Plus started showing reruns of Coronation Street, they started from April 1976 onwards. Over 900 episodes of Corrie were made during the 1960s. He may have been uncredited as it was probably a minor role.
Coburn's daughter Nana Coburn has also been on Home and Away, playing two completely different roles. She first appeared in 1989-1990 as school bully Vicki Baxter in 1989-90. She was back again in 1995 as Lisa Matthews in 1995.
https://en.wikipedia.org/wiki/Norman_Coburn http://www.dailymail.co.uk/tvshowbiz/article-2678978/Home-And-Aways-Fisher-Family-return-memorable-photo-shoot.html https://trove.nla.gov.au/newspaper/article/110333181?searchTerm=%22Norman%20Coburn%22&searchLimits=sortby=dateDesc