Nico Pappas
was a mi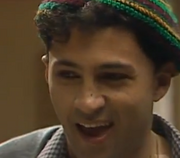 nor character in Home And Away in 1988. He was an autistic boy of Greek descent who lived in
Summer Bay
with his grandmother
Mrs Pappas
. Although the butt of many's joke's, he was generally well liked in the community, especially by The Fletchers. Nico was played by
Nicholas Papademetriou
.
Biography
Edit
Backstory
Edit
Nico Pappas was born in Australia to Greek immigrant parents. Nico's parents died when he was young, they were on their way to Greece for a holiday and the plane crashed. Nico's his paternal grandmother Mrs Pappas raised him. Nico was autistic but lead quite a normal life, running the Pappas Farm.
In February 1988, Lynn Davenport sought refuge at the Pappas farm after she ran away from her new foster family, the Fletchers. She confiscated his pills as she thought they stopped him from getting better naturally. He later found them but was admitted to a mental hospital after he attacked Donald Fisher off guard.
In June 1988 Nico attended Roo and Frank's non wedding. He was never seen again after that.
As of 2017, Nico may still live in Summer Bay but this is uncertain.
Memorable info
Edit
Birthday: Unknown, about 1960-1965
Full Name:
Father Mr Pappas
Grandmothers Mrs Pappas
Appearances
Edit
1988