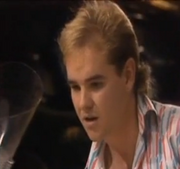 Martin Dibble
was a character in Home And Away from
Episode 0 (Episode Pilot) (17 January 1988)
to 1990 followed by appearances in 2002. Martin formed a double act with fellow brainless friend
Lance Smart
. Martin was played by
Craig Thomson
who bore a bit of a resemblance to actor turned singer
Jason Donovan
, the second actor to play
Scott Robinson
in
Neighbours
.
Biography
Edit
Backstory
Edit
Martin Dibble was born in 1968 to Ern Dibble and Nola Dibble. He was one of 3 sons. Martin attended Summer Bay High School and became best friends with Lance Smart. The two cheeky youngsters caused havoc in the Bay with their pranks. In 1985 Donald Fisher expelled them from Summer Bay High School.
1988-1990, 2000, 2002
Edit
Lance and Martin caused havoc in Summer Bay. They wound up Carly Morris and Bobby Simpson in January 1988 outside Summer Bay High. Carly jokingly released the handbrake on their van and it rolled down the hill into Walter Bertram's car, as he was backing out. Lance and Martin's get rich quick scheme rarely worked and often ended up in disaster. However, in July 1988, Lance won $500'000.
Memorable info
Edit
Birthday: 1968
Full Name: Martin Dibble
Father Ern Dibble
Mother Nola Dibble
Siblings Erroll Dibble, Scott Dibble
Ad blocker interference detected!
Wikia is a free-to-use site that makes money from advertising. We have a modified experience for viewers using ad blockers

Wikia is not accessible if you've made further modifications. Remove the custom ad blocker rule(s) and the page will load as expected.