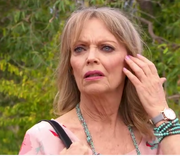 Martha Stewart (nee Baldivis)
was the first wife of
Alf Stewart
, and mother of
Roo Stewart
. Martha "died" in 1985 after drowning in a boating accident. Martha appeared in flashbacks to 1970 when Alf read her diary in 1989. Martha was played by
Alison Mulvaney
in 1989 and by
Belinda Giblin
in 2018.
In a 1988 episode, a photo of Martha with Alf was seen.
Biography
Edit
Backstory
Edit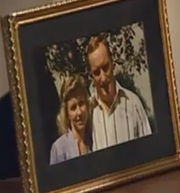 Martha Baldivis was born in about 1949. Alf Stewart first met Martha Baldivis when she was 18 and they married soon after in April 1969. They had a daughter
Roo Stewart
, full first name Ruth, in 1970. Roo was their only child.
In 1985 Martha "died", allegedly in a boating accident. By then Roo was a 15 year old schoolgirl.
Memorable info
Edit
Birthday: Unknown about 1949
Full Name: Martha Stewart (Nee Baldivis)
Martha's granddaughter Martha MacKenzie was named after her.
Even though she only appeared in flashbacks in Jan 1989, when Martha returns in 2018, she will be the character with the longest gap between appearances.
Spouse Alf Stewart (1969-1985)
Children Roo Stewart (1970)
Grandchildren Martha MacKenzie
Distant relatives Mervin Baldivis
Appearances
Edit