Martha MacKenzie
was
a character in Home And Away who was born during the shows run in
Episode 169 (8 September 1988)
. She is the daughter of
Roo Stewart
and
Brett Macklin
. Martha was given up for adoption but returned in 2005 and left in
Ep 5093 (9 Jun 2010)
. Martha was played by 
Burcin Kapkin
as a baby in 1988 and from 2005 to 2010 by
Jodi Gordon
, now Jodi Anasta.
Biography
Edit
Backstory
Edit
Martha Stewar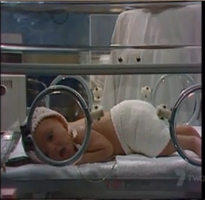 t was born in September 1988 as the illegitimate daughter of
Roo Stewart
and
Brett Macklin
. She was named after her late grandmother
Martha Stewart
. Martha was the grandddaughter of
Alf Stewart
and
Gordon Macklin
, both businessmen but Gordon being a lot richer.
Martha was adopted shortly after birth and Roo left Summer Bay.
2005-2007
Edit
18 year old Martha returned to Summer Bay in 2005.
Memorable info
Edit
Birthday: September 1987 (Originally September 1988) Age SORASed.
Full Name: Martha MacKenzie (Nee Stewart)
Father Brett Macklin (biological)
Mother Roo Stewart (biological)
Adoptive mother Pauline MacKenzie
Siblings Michael MacKenzie, Greg MacKenzie(adoptive)
Grandfathers Alf Stewart, Gordon Macklin
Grandmothers Martha Stewart, Mrs Macklin
Great grandfathers Angus Stewart, Mervin Baldivis (possibly)
Great grandmothers Sarah Jane Stewart
Aunts/Uncles Stacey Macklin, Duncan Stewart, Quinn Jackson, Owen Dalby
Great aunts/uncles Colleen Smart, Morag Bellingham, Barbara Fisher, Celia Stewart, Debra Stewart