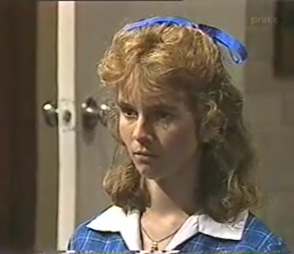 Lynn Davenport
was a character in Home And Away from January 1988 (
Pilot Episode
) to August 1988 (
Episode 159
). She was one of the original characters of the show. Lynn was the first regular character to leave the show. Lynn was played by
Helena Bozich
.
Biography
Edit
Backstory
Edit
Lynn Davenport was born in 1973 to Barry (played by Michael Caton) and Janet Davenport. She was the youngest of several children.
Loud mouthed Lynn was fostered by
Tom
and his
Pippa Fletcher
. Lynn struggled to bond with her other foster siblings, especially
Carly Morris
. In February 1988 (
Episode 11
), Lynn ran away from home and stayed in a derelict barn at a dilapidated farmhouse which was actually inhabited by the elderly Greek lady
Mrs Pappas
and her grandson
Nico
. Lynn later returned to the Fletcher house.
Donald Fisher
wanted Lynn to pretend she was sexually assaulted so he could get Nico put away due to his mental health. Lynn refused to comply with her deputy head's wishes.
In July 1988 (Episode 127), Lynn returned to her real parents.
In August 1988 (Episode 157), Lynn returned briefly to Summer Bay for the christening of Tom and Pippa's son Christopher, then returned to the city. That was her final visit to Summer Bay. Producers stated that when she returned she would be involved in some fairly dramatic storylines, however she was written out of the series, because of the size of the cast, with executives stating "because of the size of the cast, some actors get "lost", and don't appear on screen for long"
Although she has been spoken of by the Fletchers, as of 2018, whereabouts since her departure are unknown, and she has not returned to the Bay since her departure.
Memorable info
Edit
Birthday: 1973
Full Name: Lynn Davenport
Father Barry Davenport
Mother Janet Davenport
Siblings At least 5 siblings