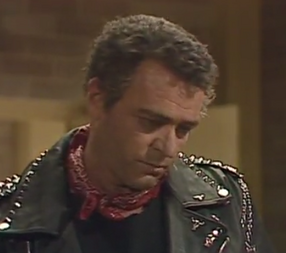 This is a list of past
"Home And Away"
characters listed in order of year last seen and then the episode that they were last seen in. The list also includes year of arrival and year of departure. Appearances of dead characters in visions or hallucinations by current characters dont count as a chronological appearance. Ie
Ailsa Stewart
died in 2000 but was seen in a vision by her husband
Alf Stewart
in 2002 and 2003. Same for the famous episode where Ailsa saw a vision of
Bobby Marshall
appearing in the fridge in 1995, 2 years after her death. This page also lists minor characters. In the words of
Irene Roberts
when she is serving meals, enjoy.
See also List of current Home And Away characters
Past Characters
Edit
Last seen in 2018
Edit
Last seen in 2017
Edit
Last seen in 2016
Edit
Last seen in 2015
Edit
Last seen in 2014
Edit
Last seen in 2013
Edit
Last seen in 2012
Edit
Last seen in 2011
Edit
Last seen in 2010
Edit
Last seen in 2009
Edit
| Character Name | Episode of final appearance | Duration |
| --- | --- | --- |
| Kirsty Phillips | Ep 4973 (28 Oct 2009) | 2000-05, 2008-09 |
| Shelley Sutherland | Ep 4973 (28 Oct 2009) | 2000-04, 2009 |
| Jai Fernandez | Ep 4968 (21 Oct 2009) | 2008-09 |
| Ross Buckton | Ep 4963 (14 Oct 2009) | 2008-09 |
| Amanda Vale | Ep 4917 (11 Aug 2009) | 2005-07, 2008, 2009 |
| Belle Taylor | Ep 4916 (10 Aug 2009) | 2006-09 |
| Roman Harris | Ep 4874 (11 Jun 2009) | 2007-09 |
| Gardy | Ep 4873 (10 Jun 2009) | 2009 |
| Pippa Ross | Ep 4840 (24 Apr 2009) | 1988-98, 2000, 2002, 2003, 2005, 2006, 2007, 2008, 2009 |
| Robbo Cruze | Ep 4822 (31 Mar 2009) | 2009 |
| Kane Phillips | Ep 4804 (5 Mar 2009) | 2001-05, 2008-09 |
Last seen in 2008
Edit
| Character Name | Episode of final appearance | Duration |
| --- | --- | --- |
| Jack Holden | Ep 4770 (28 Nov 2008) | 2005-08 |
| Matilda Hunter | Ep 4689 (24 Jul 2008) | 2004-08 |
| Ric Dalby | Ep 4689 (24 Jul 2008) | 2004-08 |
| Carly Morris | Ep 4609 (3 Apr 2008) | 1988-91, 1997, 2000, 2002, 2008 |
| Steven Matheson | Ep 4609 (3 Apr 2008) | 1988-91, 1995-96, 1997, 1998, 2000, 2002, 2003, 2008 |
| Floss McPhee | Ep 4608 (2 Apr 2008) | 1988-89, 2000, 2002, 2004, 2008 |
| Cassie Turner | Ep 4608 (2 Apr 2008) | 2005-08 |
| Drew Curtis | Ep 4600 (21 Mar 2008) | 2006-08 |
| Johnny Cooper | Ep 4590 (7 Mar 2008) | 2006-07, 2008 |
| Lucas Holden | Ep 4574 (14 Feb 2008) | 2005-08 |
Last seen in 2007
Edit
Last seen in 2006
Edit
Last seen in 2005
Edit
| Character Name | Episode of final appearance | Duration |
| --- | --- | --- |
| Scott Hunter | Ep 4100 (25 Nov 2005) | 2003-05 |
| Hayley Lawson | Ep 4100 (25 Nov 2005) | 1998-2005 |
| James Fraser | Ep 4013 (27 Jul 2005) | 1997, 1998-2000, 2005 |
| Jesse McGregor | Ep 4012 (26 Jul 2005) | 1996-2000, 2002-05 |
| Chloe Richards | Ep 4001 (11 Jul 2005) | 1995-99, 2005 |
| Sam Marshall | Ep 4000 (8 Jul 2005) | 1991-2001, 2002, 2005 |
| Mitch McColl | Ep 4000 (8 Jul 2005) | 1999-2001, 2005 |
| Blake Dean | Ep 4000 (8 Jul 2005) | 1990-93, 2002, 2003, 2005 |
| Sarah Thompson | Ep 4000 (8 Jul 2005) | 1993-94, 1995, 2005 |
| Sophie Simpson | Ep 4000 (8 Jul 2005) | 1990-93, 2002, 2003, 2005 |
| Barbara Fisher | Ep 4000 (8 Jul 2005) | 1988, 1989, 1996, 2005 |
| Josie Russell | Ep 3993 (29 Jun 2005) | 2004-05 |
| Henry Hunter | Ep 3984 (16 Jun 2005) | 2004-05 |
| Brett Macklin | Ep 3973 (1 Jun 2005) | 1988, 2005 |
Last seen in 2004
Edit
Last seen in 2003
Edit
| Character Name | Episode of final appearance | Duration |
| --- | --- | --- |
| Nick Smith | Ep 3595 (12 Sep 2003) | 1999, 2000-03 |
| Paris Burnett | Ep 3593 (10 Sep 2003) | 2002-03 |
| Simone Harris | Ep 3549 (10 Jul 2003) | 2001-03 |
| Christopher Fletcher | Ep 3544 (3 Jul 2003) | 1988-98, 2003 |
| Mikey Dunn | Ep 3544 (3 Jul 2003) | 2002-03 |
| Tamara Simpson | Ep 3540 (27 Jun 2003) | 1992-93, 2003 |
| Ralph Patterson | Ep 3531 (16 Jun 2003) | 1999, 2001, 2002, 2003 |
| Maureen Evans | Ep 3525 (6 Jun 2003) | 2003 |
| Gladys Adams | Ep 3498 (30 Apr 2003) | 2001, 2003 |
| Angie Russell | Ep 3489/3490 (17 Apr 2003) | 2002-03 |
| Stephen Ross | Ep 3479 (3 Apr 2003) | 2003 |
| Dr Wilson | Ep 3466 (17 Mar 2003) | 1998-2003 |
| Debbie Smart | Ep 3462 (11 Mar 2003) | 2000, 2001, 2003 |
| Maggie Smart | Ep 3462 (11 Mar 2003) | 2001, 2003 |
| June Reynolds | Ep 3455 (28 Feb 2003) | 2000-02, 2003 |
Last seen in 2002
Edit
| Character Name | Episode of final appearance | Duration |
| --- | --- | --- |
| Grigg | Ep 3407 (12 Nov 2002) | 2002 |
| Julius Peters | Ep 3393 (23 Oct 2002) | 2001, 2002 |
| Marie Peters | Ep 3364/3365 (13 Sep 2002) | 2002 |
| Kelli Edwards | Ep 3360 (6 Sep 2002) | 2002 |
| Mav Patterson | Ep 3359 (5 Sep 2002) | 2002 |
| Charlotte Adams | Ep 3357 (3 Sep 2002) | 2001-02 |
| Jude Lawson | Ep 3355 (30 Aug 2002) | 2000-02 |
| Shauna Bradley | Ep 3324 (18 Jul 2002) | 1999-2001, 2002 |
| Stella Patterson | Ep 3323 (17 Jul 2002) | 2001, 2002 |
| Aimee Cooper | Ep 3322 (16 Jul 2002) | 2002 |
| Frank Morgan | Ep 3289 (30 May 2002) | 1988-89, 1991-92, 2000, 2002 |
| Matt Wilson | Ep 3288 (29 May 2002) | 1988-91, 2002 |
| Martin Dibble | Ep 3288 (29 May 2002) | 1988-90, 2000, 2002 |
| Nathan Roberts | Ep 3255 (12 Apr 2002) | 1993-94, 2002 |
| Pete Sutherland | Ep 3233 (13 Mar 2002) | 2002 |
| Vinnie Patterson | Ep 3225 (1 Mar 2002) | 1997-2002 |
Last seen in 2001
Edit
Last seen in 2000
Edit
Last seen in 1999
Edit
Last seen in 1998
Edit
Last seen in 1997
Edit
Last seen in 1996
Edit
Last seen in 1995
Edit
Last seen in 1994
Edit
Last seen in 1993
Edit
Last seen in 1992
Edit
Last seen in 1991
Edit
Last seen in 1990
Edit
Last seen in 1989
Edit
Last seen in 1988
Edit