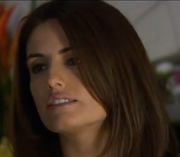 Leah Patterson-Baker (nee Poulos)
[1]
is a character in Home And Away who was first seen in March 2000 (
Episode 2793
). She is one of the longest serving female characters in the show. Leah has been involved in many high profile storylines since her arrival. As she is now 39, she is becoming one of the future matriarchs of the show. Leah has been in the show for 18 years now so is one of the longest serving characters. She is played by
Ada Nicodemou
.
Biography
Edit
Backstory
Edit
Leah Poulos was born in February 1979 in Australia to Greek parents. She was born to Theo and Helen Poulos, and has an uncle Con Poulos, Leah had 3 brothers, Dimitri, Chris and Alex. Leah also has second cousins, Christina Poulos and her sister Effie (however not the Mary Coustos famous character Effie, lol)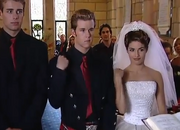 Chatty Leah Poulos was walking along a country lane when Vinnie Patterson picked her up. She was too chatty and in the end Vinnie offended Leah by saying this. They started dating though and married in February 2001 (
Episode 2998
). They had a son
Vincent Junior
, known as VJ, in late 2001 (Later SORASEd to 1999).
Memorable info
Edit
Birthday: February 1979
Full Name: Leah Patterson-Baker (nee Poulos)
As Leah was once wed to Vinnie Patterson, she is a cousin in law to Alison Patterson, original school bitch in the first season and start of the shows second season.
Personality
Edit
Father Theo Poulos
Mother Helen Poulos
Siblings Alex Poulos, Dimitri Poulos, Chris Poulos
Spouse Vinnie Patterson (2001-2005), Dan Baker (2005-08), Zac MacGuire (2015-)
Children VJ Patterson (1999)
See also
Edit