Kym
was a po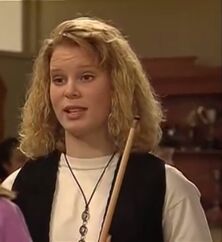 pular girl in Year 8 at Summer Bay High who peer pressures 
Sally Fletcher
to fit in with cool group at school. She issues Sally a series of humiliating and dangerous tasks as way of initiation into the group. Sally never joined the group full term. Kim was played by 
Jennifer Hardy
in 1993.
Biography
Edit
Backstory
Edit
Kym was born in 1978. She lived in Summer Bay and attended Summer Bay High School. Kym formed a school gang and they thought they were above the school rules. One of the members of the clique was Craig Bentley.
Kym's reputation at Summer Bay High earned her fear from other classmates due to her rebellious bitchy ways. She wanted Sally Fletcher to join her rebel group. To make Sally prove she is one of them now, she made Sally do dangerous tasks to fit in with the group. After her friendship with Gloria James suffered, Sally later cut off contact with Kym. What became of Kym after 1993 is unclear, but she appears to have left Summer Bay by 1995, or was still in her last year or 2 at school, but was never seen in scenes at the school.
Memorable info
Edit
Birthday: 1978
Kym's surname was never revealed.
Kym was very much like Alison Patterson, one of her predecessors in the "Summer Bay High Superbitch" league. Alison was long gone from Summer Bay by 1993, but if Alison and Kym had met they would probably either have been bitter rivals or the best of friends.
Appearances
Edit
1993