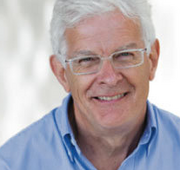 John Holmes, (born in 1950/51, England) is a British Australian, who is one of the current executive producers of Home And Away. He started as the series producer for the shows first year in 1988 after which he moved to the NIne Network. He returned in 1994 as Head Of Drama to Channel 7 and has remained as executive producer of Home And Away ever since.
Neighbours (1985-1986)
Edit
After emigrating to Australia in the 1970s, he took up a career as a television producer. From the planning, creation and first filming of Neighbours in the autumn of 1984 to May 1986, John Holmes worked as the series producer of Neighbours with Reg Watson as the executive producer.
Home And Away (1988)
Edit
Planning and creating the new series Home And Away was underway in early 1987 and John Holmes was appointed series producer. The show had been in basic development for over 2 years by then. John and Bevan lee rewrote the pilot episode. John Holmes worked as the series producer in the first season of Home And Away with Alan Bateman, the shows creator as the executive producer. John's work on H&A was very similar to that of his time in Neighbours, working as series producer with the shows creators as executive producers. When Bateman left H&A in September 1988, Des Monaghan took over as Executive Producer. John Holmes soon moved to Channel 9.
After Home And Away
Edit
Return to Home And Away (1994-present)
Edit
In 1994, John Holmes took over as Executive Producer of Home And Away after the departure of Andrew Howie.
As of 2017, John Holmes is still Exec Producer, and one of the longest serving crew members of the show.