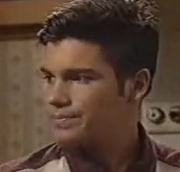 Jack Wilson was a character in Home And Away who appeared from 1994 to 1996 and again in 2000. He was the rebellious foster child of
Michael Ross
and
Pippa Ross
. Jack first appeared in 
Ep 1435 (1 Apr 1994)
and last appeared in
Ep 2855 (16 Jun 2000)
. Jack was played by
Daniel Amalm
.
Biography
Edit
Backstory
Edit
Jack Wilson was born in 1978 to Mr Wilson and Maria Wilson. He had a sister Kathy Wilson.
1994-1996, 2000
Edit
Jack was fostered by Michael Ross and Pippa Ross in April 1994. He began causing trouble in Summer Bay, irritating local grocer Alf Stewart and getting involved in pranks. He developed a rivalry with Shane Parrish. Jack made a pass at Shane's girlfriend Angel Brooks. Shane got revenge by pretending to have finished with Angel and gave him false directions to Angel's bedroom at Donald Fisher's house. Jack climbed to his bedroom window by climbing on the garage roof, then across to Don's bedroom. Shane had secretly unlocked the window when Don was not looking. Jack climbed in and whispered sexy things to what he thought was Angel. Don retaliated but Jack bolted before Don could switch the light on and see who it was. Jack whispered to a friend in class a while later and Don rumbled him, recognising his whisper.
Memorable info
Edit
Birthday: 1978
Full Name: Jack Wilson
Mother Maria Wilson
Siblings Kathy Wilson
Ad blocker interference detected!
Wikia is a free-to-use site that makes money from advertising. We have a modified experience for viewers using ad blockers

Wikia is not accessible if you've made further modifications. Remove the custom ad blocker rule(s) and the page will load as expected.