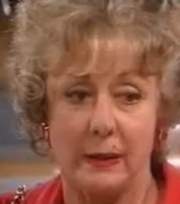 Isobel DuPre
was a minor character in Home And Away in 1997. She was the gossipy actress mother of
Donald Fisher
and his 2 siblings 
Mary Croft
and
Clive Fisher
. Isobel's husband had died in 1964 and she left her children to fend for themselves. By 1997, Isobel was dying when she arrived in
Summer Bay
and made peace with her son before returning to
Adelaide
and then dying that year. Don and his wife
Marilyn Fisher
did a skydive in memory of Isobel.

Isobel was played by Lorrae Desmond
Biography
Edit
Backstory
Edit
Isobel DuPre was born in about 1925. She married young to R.J. Fisher (Unknown first name) in about 1944. They had a son Donald Fisher in 1945, Mary Fisher in about 1946 and Clive Fisher in about 1950.
In March 1997, aged about 71, Isobel DuPre tracked her son Donald down in Summer Bay. She had not seen him for 33 years. Don was now 52 years of age. Isobel later revealed that she was dying. She never visited her other children, Mary Croft and Clive Fisher. Don made peace with her and she returned to Adelaide. She died soon after.
Memorable info
Edit
Birthday: 1925
Died: April 1997
Full Name: Isobel DuPre (Later Fisher)
Despite playing mother and son on screen, there was only a 7 year age gap between actors Lorrae Desmond and Norman Coburn. Norman's character Don was 8 years younger than him and Isobel was probably a few years older than Lorrae.
Siblings Sophie
Spouse R.J. Fisher (c1944-1964)
Children Donald Fisher (1945), Mary Fisher (later Croft) (c1946), Clive Fisher (c1950)
Grandchildren David Croft, Lucinda Croft, Alan Fisher, Rebecca Nash, Bobby Marshall, Byron Fisher
Great Grandchildren Tamara Simpson, Seb Miller, Unknown Nash
Appearances
Edit
1997
Ad blocker interference detected!
Wikia is a free-to-use site that makes money from advertising. We have a modified experience for viewers using ad blockers

Wikia is not accessible if you've made further modifications. Remove the custom ad blocker rule(s) and the page will load as expected.