1991 was Home And Away's 4th year in production.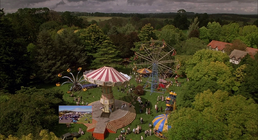 Des Monaghan was Exec Producer throughout this year.
Storylines
Edit
Main characters
Edit
New Main Character Arrivals
Nick Parrish (March)
Sam Nicholls (April)
Lucinda Croft (June)
Finlay Roberts (September)
Greg Marshall (September)
Simon Fitzgerald (September)
Irene Roberts (October)
Damian Roberts (November)
Departures of Main Characters
Steven Matheson (January)
Carly Lucini (May)
Ben Lucini (May)
Karen Dean (August)
Haydn Ross (September)
Matt Wilson (November)
Main Character Returns
Grant Mitchell (February-March, September)
Frank Morgan (November)
Minor characters
Edit
Who Lived Where?
Edit