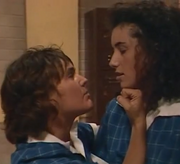 Now in just 3 months time, Australia's most iconic soap,
Home And Away
, will turn 3 decades old. The 30th anniversary of Home And Away is drawing nearer and nearer. As of October 2017, the 30th anniversary is just 5 months away, although July 2017 was 30 years since filming first began. The show was first thought of in around 1985, at the same time its rival
Neighbours
was airing on
Channel 7
in Australia.
This means H&A is over 30 years old in terms of pre televised history. Creator Alan Bateman liked to plan 3 years ahead to work on a pilot episode. As of January 2017 it was 32 years since the basic premise of the show was first thought out.
30th anniversary, January 2018
Edit
Sharyn Hodgson, who played Carly Morris, has not ruled out a return to the show for the milestone birthday.
Fans have expressed a return for characters like Donald Fisher, Sally Fletcher and even a return from the dead of Vinnie Patterson.
Hopefully one day old H&A episodes will be relased on DVD.
Ad blocker interference detected!
Wikia is a free-to-use site that makes money from advertising. We have a modified experience for viewers using ad blockers

Wikia is not accessible if you've made further modifications. Remove the custom ad blocker rule(s) and the page will load as expected.