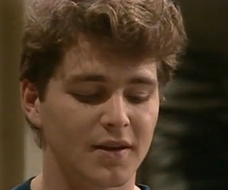 Gary Samuels
was a minor character in Home And Away in 1988. He was a con man who caused trouble in
Summer Bay
. Gary was involved in some major storylines during his short time in the show and jumped off a cliff, dying instantly in November 1988. Gary was played by ex Neighbours actor
Darius Perkins
.
Biography
Edit
Backstory
Edit
Gary Samuels was born in 1966. He was the younger brother of Jeff Samuels. Gary attended Summer Bay High School with Lance Smart and Martin Dibble.
In October 1988,
Carly Morris
saw Gary and thought he was the man who attacked her. He tried to intimidate her into keeping her mouth shut, and protesting his innocence.
Steven Matheson
once square up to Gary, saying he was good at karate but Gary threw him to the floor, being better. Gary soon begun dating Carly but this was shunted by bitchy
Alison Patterson
who wanted to split them up. Gary was a bit of a dodgy dealer and had dodgy friends in
Sydney, "The City"
. Gary had big plans to fleece Summer Bay and blled the bay dry.
In November 1988, Gary fell off a cliff edge and Carly was suspected of murder. However witnesses saw Gary fall. Jeff Samuels apologised to Carly. Jeff then left Summer Bay to start afresh.
Memorable info
Edit
Birthday: 1966
Died: November 1988 (Aged 22)
Cause of death: Fell off a cliff
Full Name: Gary Samuels
First Line: "You one of Jeff's students, are ya?" (to Steven)
Last Line: "What are you doing here?"
Father Clyde Samuels
Mother Rose Samuels
Siblings Jeff Samuels
Appearances
Edit
1988