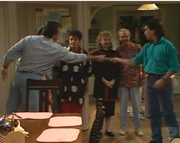 Floss McPhee
,
Neville McPhee
, 
Carly Morris
,
Sally Fletcher
and
Tom Fletcher
and
Pippa Fletcher
do up
Frank Morgan
's caravan into a suitable place for him and
Roo Stewart
, seeing Nico's artork as unsuitable. Tom thinks
Nico Pappas
is too much trouble and cannot stay at
Summer Bay caravan park
. Carly takes
Matt Wilson
on a date. During the night, Tom sneaks
Jessie
the cow back to the
Pappas Farm
. The following morning, Nico asks why Jessie has gone. Tom and Pippa take him back to the farm and Nico says he wants to come home. Frank goes for a job interview and by sheer coincidence he sees Tom waiting for an interview as well.
Main cast
Guest cast
Writer - Michael Joshua
Series Producer - John Holmes
Exec Producer - Alan Bateman
Ad blocker interference detected!
Wikia is a free-to-use site that makes money from advertising. We have a modified experience for viewers using ad blockers

Wikia is not accessible if you've made further modifications. Remove the custom ad blocker rule(s) and the page will load as expected.