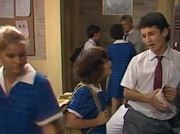 Frank Morgan
dries himself off after being soaked by
Nico Pappas
. He goes for his job interview.
Steven Matheson
offers to study with
Bobby Simpson
.
Celia Stewart
says to
Donald Fisher
that her sister
Barbara Fisher
, Don's ex wife is coming to the school play. Don is not ahppy. He phones Barbara and she says she will be there as a member of the Stewart family not the Fisher family. Celia pressurises Carly to perform well at the auditions for the school play. Nico pappas does up Frank's caravan into a love nest for him and Roo.
Main cast
Guest cast
Writer - Michael Joshua
Series Producer - John Holmes
Exec Producer - Alan Bateman
Ad blocker interference detected!
Wikia is a free-to-use site that makes money from advertising. We have a modified experience for viewers using ad blockers

Wikia is not accessible if you've made further modifications. Remove the custom ad blocker rule(s) and the page will load as expected.