Steven Matheson
mout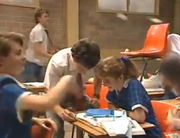 hs off at
Jeff Samuels
and he gives him a 1 hour detention.
Donald Fisher
promises big changes at
Summer Bay High School
now he is headmaster. He says that
Walter Bertram
still has to stand trial for what he did. Matheson mouths off again at Samuels and gets another 1 hour detention on Friday. He is also thrown out of class.
Nico Pappas
says he will help
Frank Morgan
find a job. Donald Fisher says to Samuels that he should not have thrown him out of class and instead sent him to see him after class. Don is unhappy that his ex wife
Barbara Fisher
is being invited to
Roo Stewart
's wedding.
Main cast
Guest cast
Writer - Dave Worthington
Series Producer - John Holmes
Exec Producer - Alan Bateman
Ad blocker interference detected!
Wikia is a free-to-use site that makes money from advertising. We have a modified experience for viewers using ad blockers

Wikia is not accessible if you've made further modifications. Remove the custom ad blocker rule(s) and the page will load as expected.