Pippa Fletcher
thinks the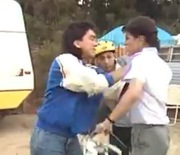 man she spoke to in the dark sounded familiar. She says he had a torch but was stood behind a tree and she could not make him out. The following morning
Tom Fletcher
is a bit annoyed at
Steven Matheson
as he seems to not be pulling his weight around the house.
Jeff Samuels
questions Tom's ability as a foster father. Matheson catches
Nico Pappas
riding his bike and gets a bit aggressive with him but
Frank Morgan
tells him to back off. Nico wants to be the best man at Frank's wedding and he gets the ring from the lucky dip machine at
Hogan's Store
. A cheapo ring. Pippa gets a phonecall from The Nutter and recognises his voice. She rounds up Jeff Samuels and they go to
Donald Fisher
's office where she says she knows who the Nutter is.
Main cast
Guest cast
Writer - Jennifer Mellet
Series Producer - John Holmes
Exec Producer - Alan Bateman
Ad blocker interference detected!
Wikia is a free-to-use site that makes money from advertising. We have a modified experience for viewers using ad blockers

Wikia is not accessible if you've made further modifications. Remove the custom ad blocker rule(s) and the page will load as expected.