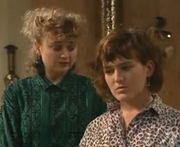 Bobby Simpson
admits to torching the car to get rid of the prophecy.
Pippa Fletcher
says what she did is a dumb thing but she misses her and wants her to return to
Summer Bay House
.
Ailsa Stewart
is unhappy that people seem to user her shop as a meeting place rather than a shop. She asks Bobby if something is on her mind.
Nico Pappas
,
Lance Smart
and
Martin Dibble
are causing havoc at Summer Bay House.
Tom Fletcher
wants Nico to return home to the
Pappas Farm
. Lance and Martin steal Nico's hat so Lance can pretend to be Nico for when the Nutter sees him. Nico pounces on Lance, and Lance thinks it is The Nutter but Nico wants his hat back. Pippa talks to The Nutter who is stood a few feet away behind a tree. The Nutter says everyone knows who he is. He then walks off.
Main cast
Guest cast
Writer - Jennifer Mellet
Series Producer - John Holmes
Exec Producer - Alan Bateman
Ad blocker interference detected!
Wikia is a free-to-use site that makes money from advertising. We have a modified experience for viewers using ad blockers

Wikia is not accessible if you've made further modifications. Remove the custom ad blocker rule(s) and the page will load as expected.