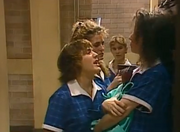 Floss McPhee
and
Neville McPhee
wonder if The Summer Bay Nutter torched the car. If so then it may have destroyed the prophecy, seeing as no one was injured in the fire. That night,
Nico Pappas
turns up at
Summer Bay House
. In
school
the following morning,
Alison Patterson
taunts
Carly Morris
again over fancying
Andrew Foley
. The students taunt
Andrew Foley
about him "fancying" Carly. Foley puts them to rights. Foley has plans to apply for a transfer. Carly asks him to kiss her just once and he does. Nico answers the phone to The Nutter and the nutter says he wants to see him.
Main cast
Guest cast
Writer - Ray Harding
Series Producer - John Holmes
Exec Producer - Alan Bateman
Ad blocker interference detected!
Wikia is a free-to-use site that makes money from advertising. We have a modified experience for viewers using ad blockers

Wikia is not accessible if you've made further modifications. Remove the custom ad blocker rule(s) and the page will load as expected.