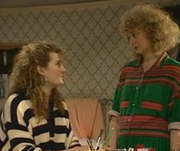 Floss McPhee
is frantic with worry over her dream and worrying it is a premonition.
Neville McPhee
says that the number plate on the car is only 2 letters the same as what was in Floss's dream.
Martin Dibble
overhears
Pippa Fletcher
and
Donald Fisher
talking about
Andrew Foley
comforting
Carly Morris
in
Summer Bay High School
and how Don thought he was making a pass at her. Martin tells
Lance Smart
and they plan to wind Foley up by calling him a perv. Frank's car is set alight and all the residents of the caravan park run out and watch. A few metres away Bobby Simpson is hiding watching the commotion and smirking.
Main cast
Guest cast
Writer - Ray Harding
Series Producer - John Holmes
Exec Producer - Alan Bateman
Final appearance of Andrew Foley until Episode 262 (14 March 1989).