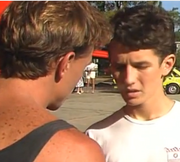 Floss McPhee
is certain that her nightmare was a premonition.
Neville McPhee
talks her round and tells her not to spread any gossip. While on the way to
the city
for a sporting competition,
Jeff Samuels
suggests that
Steven Matheson
be fostered by a couple who have no other foster children.
Pippa Fletcher
comes home from hospital.
Carly Morris
admits she has feeling for
Andrew Foley
but is caught hugging by
Donald Fisher
. Don says Foley could be in serious trouble for trying it on with a student. Foley says he was comforting her. Don says it could be child molestation. Floss sees that Frank Morgan has bought a new car, it is blue and has the same number plate that she saw in her dream last night. She is very worried that her dream is a premonition.
Main cast
Guest cast
Writer - Greg Stevens
Series Producer - John Holmes
Exec Producer - Alan Bateman
Ad blocker interference detected!
Wikia is a free-to-use site that makes money from advertising. We have a modified experience for viewers using ad blockers

Wikia is not accessible if you've made further modifications. Remove the custom ad blocker rule(s) and the page will load as expected.