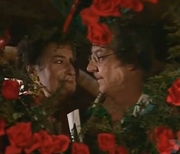 Floss McPhee
and
Neville McPhee
celebrate their 39th wedding anniversary.
Alf Stewart
plans a family lunch. He says that
Bobby Simpson
is moving in and accuses Alf of only marrying Ailsa so that they can move Bobby in.
Celia Stewart
spreads gossip that Alf and Ailsa are going to make their marriage the shortest on record, as they are divorcing but Alf puts her right and tells her to undo the gossip. Roo tells
Frank Morgan
that Ailsa has Alf right where she wants him. Bobby moves some of her stuff into the Stewart house. Floss has a nightmare about Frank dying and wakes up, saying that she knows one of the Fletcher's will die.
Main cast
Guest cast
Writer - Graham Foreman
Series Producer - John Holmes
Exec Producer - Alan Bateman
Ad blocker interference detected!
Wikia is a free-to-use site that makes money from advertising. We have a modified experience for viewers using ad blockers

Wikia is not accessible if you've made further modifications. Remove the custom ad blocker rule(s) and the page will load as expected.