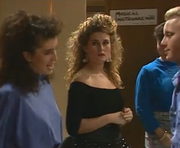 Carly Morris
goes to the dance at
Summer Bay High School
in her posh dress.
Alison Patterson
taunts her over it. Carly chats up her teacher
Andrew Foley
. But she soon turns sour when she finds that Foley has invited his girlfriend,
Vicki O'Donnell
from the city. Alison Patterson taunts her again and she tells her to rack off, calling her fishface. Carly later watches Foley and Vicki kissing in the corridor, and Vicki is slagging Carly off.
Tom Fletcher
comforst her back at
Summer Bay House
. The following morning,
Bobby Simpson
mouths off at
Jeff Samuels
on the beach. Bobby agrees to be adopted by Alf and
Ailsa Stewart
.
Main cast
Guest cast
Writer - Graham Foreman
Series Producer - John Holmes
Exec Producer - Alan Bateman
Ad blocker interference detected!
Wikia is a free-to-use site that makes money from advertising. We have a modified experience for viewers using ad blockers

Wikia is not accessible if you've made further modifications. Remove the custom ad blocker rule(s) and the page will load as expected.