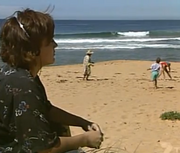 Neville McPhee
gives his son
Scott McPhee
what for about loyalty to his mother
Floss McPhee
. Scott reluctantly comes to
Summer Bay
with his wife
Anna McPhee
and son
Ben McPhee
. They play on the beach.
Steven Matheson
thinks of applying to do a triathalon. At
Summer Bay High School
, Bobby gives
Jeff Samuels
some lip.
Lance Smart
and
Martin Dibble
rehearse for the band. They do a Country And Western theme. Bobby says she will enter for the traitalon and says she will beat Steven.
Main cast
Guest cast
Writer - Neil Luxmoore
Series Producer - John Holmes
Exec Producer - Alan Bateman