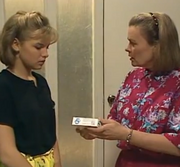 Celia Stewart
demands an explanation from
Roo Stewart
. They dont tell
Alf Stewart
and say they are going for a stroll together. On the beach Roo says she will be married to
Frank Morgan
one day anyway. Celia thinks it is time they spoke to Frank. They agree not to tell Alf yet but Celia says Frank will have to take responsibility and that frank will have to drop out of the band to bring up the baby. Everyone gets ready for Mothers Day. Steven goes to visit his late mother
Martha Louise Matheson
's grave. Frank and Roo plan their wedding.
Neville McPhee
drives to the city to see
Scott McPhee
. He wants to ask him why he has not sent his mother
Floss McPhee
any Mothers Day cards or a phonecall.
Main cast
Guest cast
Writer - Neil Luxmoore
Series Producer - John Holmes
Exec Producer - Alan Bateman
Ad blocker interference detected!
Wikia is a free-to-use site that makes money from advertising. We have a modified experience for viewers using ad blockers

Wikia is not accessible if you've made further modifications. Remove the custom ad blocker rule(s) and the page will load as expected.