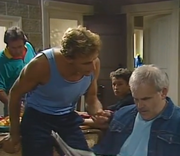 Jeff Samuels
recognises
Danny King
from years ago when he signed his cricket bat when he was 7 before he went to war.
Ailsa Hogan
gets upcoming marriage advice from
Bobby Simpson
. Jeff organises a cricket match. Danny says he has not been near a cricket ground for almost 22 years (c1966). Danny reluctantly agrees to go to the match after much persuasion from Jeff. He watches people in wheelchairs playing basketball. Danny attends the cricket match.
Celia Stewart
goes to
Roo Stewart
's bedroom to collect her cleaning box and finds a pregnancy test at the bottom of the bed.
Main cast
Guest cast
Writer - Greg Haddrick
Series Producer - John Holmes
Exec Producer - Alan Bateman
Ad blocker interference detected!
Wikia is a free-to-use site that makes money from advertising. We have a modified experience for viewers using ad blockers

Wikia is not accessible if you've made further modifications. Remove the custom ad blocker rule(s) and the page will load as expected.