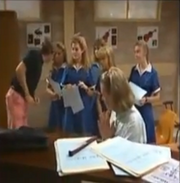 Danny King
is out of hospital and staying with the Fletchers. In class,
Andrew Foley
cracks a joke aimed at an adult and
Donald Fisher
takes him for a quiet word in the corridor and says he should never insult an adult in front of schoolchildren. Don says he has been in the profession for 20 years and knows what it is to be a good teacher. Alf and Ailsa have a row about
Frank Morgan
working at the shop and she says she will not marry him if he sees her as his doormat either.
Main cast
Guest cast
Writer -
Series Producer - John Holmes
Exec Producer - Alan Bateman
Ad blocker interference detected!
Wikia is a free-to-use site that makes money from advertising. We have a modified experience for viewers using ad blockers

Wikia is not accessible if you've made further modifications. Remove the custom ad blocker rule(s) and the page will load as expected.