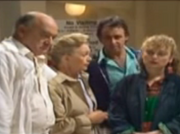 Pippa Fletcher
is alerted that her brother
Danny King
has tried to kill himself and his in 
Northern District Hospital, Yabbie Creek
but it looks like he may be alright. The Fletchers make their way to the hospital the following morning where they meet Pippa and Danny's parents
Bert
and
Coral King
.
Floss McPhee
tells
Sally Keating
that suicide is not a game and she should not try and play it. She comforts Sally. Pippa familiarises herself with a vending machine at the hospital. She cannot figure it out at first. She even resorts to shaking the machine when a coin gets stuck. She shakes the machine and it then works. Pippa confesses about when Danny asked her to help him kill himself. Tom is quite angry with Danny. Tom suggests to Danny that he comes back with them to Summer Bay.
Main cast
Guest cast
Writer Maureen Ann Moran
Series producer John Holmes
Executive producer Alan Bateman
First appearance of Bert King, played by Kevin Healy and last appearance until Ep 1734 (13 Jul 1995) in which he was played by Peter Collingwood. Kevin played Bert for just this episode.
First appearance of Coral King.