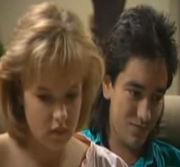 Alf Stewart
recieves a wedding present from his parents in Tahiti.
Roo Stewart
almost confesses to being pregnant to
Frank Morgan
. Alf returns home to find Frank and Roo together. He is furious. He throws Frank out and sacks him, and bans him from entering the liquor shop. Roo objects to his sacking. Alf wont budge. Frank comes home to tell
Tom Fletcher
he has been sacked.
Sally Fletcher
is worried Tom and
Pippa Fletcher
will split and suggests
Lance Smart
marries Pippa. Lance laughs at the suggestion. They both overhear another argument between Tom and Pippa when he takes her back to
Summer Bay House
. Tom and Pippa say they are not going to split up, all they are doing is disagreeing on a few things.
Main cast
Guest cast
Writer - Rick Held
Series Producer - John Holmes
Exec Producer - Alan Bateman
Ad blocker interference detected!
Wikia is a free-to-use site that makes money from advertising. We have a modified experience for viewers using ad blockers

Wikia is not accessible if you've made further modifications. Remove the custom ad blocker rule(s) and the page will load as expected.