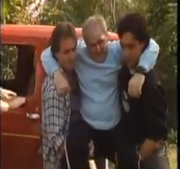 Danny King
is at
Alf Stewart
's house. He fell out of his wheelchair and the wheelchair rolled off the cliff. Alf and
Celia Stewart
were passing and picked him up.
Tom Fletcher
and
Pippa Fletcher
call out the coastguard. Celia gets Danny a new weheelchair. Pippa wants him to tell Tom that he wanted her to help him kill himself. Danny says that he is going back home. Celia gives
Carly Morris
piano lessons ready for the school play. Carly is not interested. Celia reminds her of their deal about not telling Alf she saw her stealing from the drinks store if she auditioned for the play. Carly says she is unwell and has family problems. Celia lets her go home. Danny orders a taxi to take him home.
Main cast
Guest cast
Writer - David Allen
Series Producer - John Holmes
Exec Producer - Alan Bateman
Ad blocker interference detected!
Wikia is a free-to-use site that makes money from advertising. We have a modified experience for viewers using ad blockers

Wikia is not accessible if you've made further modifications. Remove the custom ad blocker rule(s) and the page will load as expected.