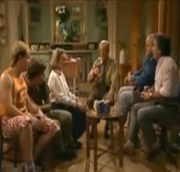 Everyone talks about Vietnam and
Neville McPhee
says aabout his time in service in WWII.
Bobby Simpson
hears from
Celia Stewart
that
Donald Fisher
thought
Tom Fletcher
was a coward during the war but she shows him a bravery medal to prove him wrong.
Danny King
tells how a good friend was killed by a mine in Vietnam. This brings back painful memories for Celia as her fiancee
Les
was killed by a mine in Vietnam. Celia says how she was going to marry him and buy a house in
Summer Bay
. Donald apologises to Tom for what he said about him. Tom then gets drunk. Danny King wants Pippa to help him kill himself.
Main cast
Guest cast
Writer -
Series Producer - John Holmes
Exec Producer - Alan Bateman
Ad blocker interference detected!
Wikia is a free-to-use site that makes money from advertising. We have a modified experience for viewers using ad blockers

Wikia is not accessible if you've made further modifications. Remove the custom ad blocker rule(s) and the page will load as expected.