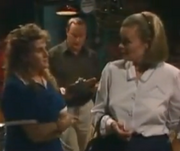 Carly Morris
tries to fob
Celia Stewart
off saying she took the bottle as a dare with her schoolfriends but Celia does not believe her. Celia blackmails her into auditioning for the school play or she will tell
Alf Stewart
.
Bobby Simpson
passes her science exam.
Roo Stewart
teases Bobby saying
Frank Morgan
is hers and some have them and some dont. When she returns to class after lunch,
Carly Morris
is told off by
Jeff Samuels
. She gives him lip and he says he will put her on yard duty for a week if she talks to him like that again.
Tom Fletcher
gets ready for Nazac day and polishes his medals. Him and Pippa tell Sally about her brother
Danny King
who served with Tom in Vietnam.
Main cast
Guest cast
Writer - Greg Stevens
Series Producer - John Holmes
Exec Producer - Alan Bateman
Ad blocker interference detected!
Wikia is a free-to-use site that makes money from advertising. We have a modified experience for viewers using ad blockers

Wikia is not accessible if you've made further modifications. Remove the custom ad blocker rule(s) and the page will load as expected.