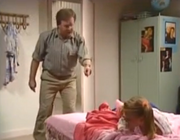 Steven Matheson
tries to reason again with
Sam Barlow
and they end up fighting, Steven knocks Sam cold. He then visits
Sandra Barlow
in hospital. She says she may lie to make her hospital stay longer as she does not wnat to return home.
Kerry Barlow
discharges Sandra from hospital and they plan to leave 
Summer Bay
without Sam. Meanwhile
Lance Smart
and
Martin Dibble
are perving on
Dawn
in the showers at
Summer Bay caravan park
. Sandra writes a note for Steven while her and Kerry pack, thinking Sam is not at home. Sam is at home and made Kerry trick Sandra into leaving so he could get Sandra back home. He locks her in her bedroom. Sam posts Sandras letter at the Fletchers to make Steven think she has left Summer Bay.
Main cast
Guest cast
Writer Susan Hore
Series Producer John Holmes
Exec Producer Alan Bateman