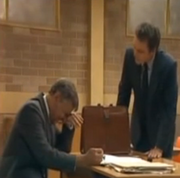 Roo Stewart
returns to
Summer Bay
and asks her father
Alf Stewart
if she can stay. He agrees, as long as she does not cause any more trouble for 
Ailsa Hogan
. She apologises to her, saying she was scared at the time of her father being engaged again.
Donald Fisher
says to the boys and girls in class that this time he wants better standards of learning and higher marks. Some of them laugh but Don says they should take it seriously as it is no picnic from now on. While alone, Ailsa says that she still cannot trust Roo and that if she tries to stop her engageent to Alf, she will have a fight on her hands. In class Steven reads out his poem about
Sandra Barlow
. 
Carly Morris
tells Lynn that her dad did not want her to return to him. Lynn is upset.
Walter Bertram
returns to his role as principal at 
Summer Bay High School
after his time off, he is complaining of headaches after the accident a few months before. He accuses Don of muscling in on the school and hankering for his job as principal. Back at
Summer Bay House
, Lynn says she does not want to talk about her father to Carly. She tells Tom and Pippa then tells Carly she can sleep in her bedroom again as long as she does not mention Barry.
Brett Macklin
visits Alf, when Alf leaves, Brett and Roo chat and she says she is not having the abortion and will marry 
Frank Morgan
and let him think the baby is his.
Main cast
Guest cast
Writer - Bruce Hancock
Series Producer -
Exec Producer - Alan Bateman
Ad blocker interference detected!
Wikia is a free-to-use site that makes money from advertising. We have a modified experience for viewers using ad blockers

Wikia is not accessible if you've made further modifications. Remove the custom ad blocker rule(s) and the page will load as expected.