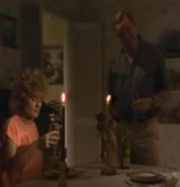 Alf Stewart
wines and dines
Ailsa Hogan
. Meanwhile
Carly Morris
wants to confess to being responsible for the car crash that injured
Walter Bertram
. She tells
Donald Fisher
that she was reponsible. Donald says he will keep it a secret after some persuasion from Carly. 
Frank Morgan
gets a job working for Alf.
Neville McPhee
finds a letter addressed to Carly and tries to read it without oepning it. He finds it is a cheque addressed to her for $8000. He is shocked.
Main cast
Guest cast
Writer Greg Haddrick
Series Producer John Holmes
Exceutive producer Alan Bateman
Ad blocker interference detected!
Wikia is a free-to-use site that makes money from advertising. We have a modified experience for viewers using ad blockers

Wikia is not accessible if you've made further modifications. Remove the custom ad blocker rule(s) and the page will load as expected.