Frank Morgan
manages to pick the lo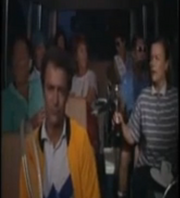 ck and access the
Church Hall
. The Nutter makes another phonecall and
Martin Dibble
answers it. He gives him some grief and even says who he is so he can take him on.
Alf Stewart
,
Donald Fisher
,
Celia Stewart
and some other residents board a coach to go to the tennis finals but the coach breaks down, and at night time. They have a bonfire. Donald Fisher is acting miserable as usual. The Nutter comes into the church hall before the dance has started and leaves a note on the drumkit.
Main cast
Guest cast
Writer Lyn Oglivy
Series Producer John Holmes
Exec Producer Alan Bateman
Ad blocker interference detected!
Wikia is a free-to-use site that makes money from advertising. We have a modified experience for viewers using ad blockers

Wikia is not accessible if you've made further modifications. Remove the custom ad blocker rule(s) and the page will load as expected.