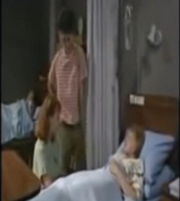 Sandra Barlow
is in hospital and
Steven Matheson
visits her. Sandra's mum
Kerry Barlow
says 
Sam Barlow
has been under a lot of pressure lately. Sandra tells her mum to stop making excuses for him and she sticks to her story that her dad hit her.
Bob Barnett
visits Sam as he suspects he is abusing her but Barlow tries to fob him off. Bob says if Sandra sticks to her guns he could end up in court.
Ailsa Hogan
visits Sandra in hospital. Sandra and Steven talk and she is sure that she will be fostered now. Steven says he will never forget her if she does move away.
Tom Fletcher
gets a phonecall from The Nutter to say that the dance is off. Him and
Frank Morgan
suggest the Church Hall, so the Nutter does not know. At the hospital, Barlow visits his daughter Sandra and Steven looks daggers at him. Barlow asks if Steven has a problem and Steve walks off.
Main cast
Guest cast
Writer Lyn Oglivy
Series Producer John Holmes
Exec Producer Alan Bateman
Ad blocker interference detected!
Wikia is a free-to-use site that makes money from advertising. We have a modified experience for viewers using ad blockers

Wikia is not accessible if you've made further modifications. Remove the custom ad blocker rule(s) and the page will load as expected.