It is Go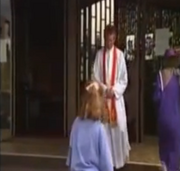 od Friday in
Summer Bay
.
Celia Stewart
berates
Ailsa Hogan
for trading on Good Friday.
Lynn Davenport
thinks God is dead as far as she is concerned so
Carly Morris
cooks her meat for dinner, wanting to see if Lynn will eat it.
Sam Barlow
is in a good mood for a change and starts tickling his daughter
Sandra Barlow
but she gets angry and calls him a bully. Sandra then rushes off to her bedroom. Lyn refuses to eat the meat, showing that she still believes in God and that she will stick to being a vegetarian. Sandra rushes to Ailsa for help. Ailsa comforts her. When Sandra returns home, Sam hits her. A frightened
Kerry Barlow
says it was an accident when the ambulance is phoned. Lynn goes to church. She makes a sign of the cross.
Main cast
Guest cast
Writer Greg Stevens
Series Producer John Holmes
Exec Producer Alan Bateman
Ad blocker interference detected!
Wikia is a free-to-use site that makes money from advertising. We have a modified experience for viewers using ad blockers

Wikia is not accessible if you've made further modifications. Remove the custom ad blocker rule(s) and the page will load as expected.